3002
3002 Support Chips
Introduction date:
November 1974
Category:
2-bit Bit-slice processor
Frequency:
6MHz
Technology:
Shottky Bipolar LSI circuit
Number of transistors:
? (6 microns)
Addressable memory:
64Kbyte
Number of instructions:
512 microinstructions
History:




Several 3002's could be linked together to create a computer that could handle 16-bits at a time.




Second source:


Signetics was the only second source to Intel 3002.
Russian clones was also made.
---
Intel
C3002
C3002
Engineering Sample
N.D.C
Malaysia
7531
3002
D3002
MD3002/B
MD3002/B
MD3002/B
(Custom Sample)
Malaysia
7604
Barbados
8030

(Custom Sample)
Malaysia
7606
PHILIPPINES
8403

Malaysia
7607

---
| | | | | | |
| --- | --- | --- | --- | --- | --- |
| Signetics | | | | | |
| N3002I | N3002 | N3002N | | | |
| | | | | | |
| 7804 | 7644 | 7721 | | | |
---
| | | | | | |
| --- | --- | --- | --- | --- | --- |
| USSR | | | | | |
| 589NK02 | | | | | |
| | | | | | |
| 9001 | | | | | |
---
| | | | | | |
| --- | --- | --- | --- | --- | --- |
| Tesla | | | | | |
| MH3002 | | | | | |
| | | | | | |
| 514 | | | | | |
---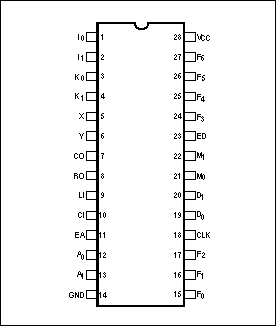 3002 pin configuration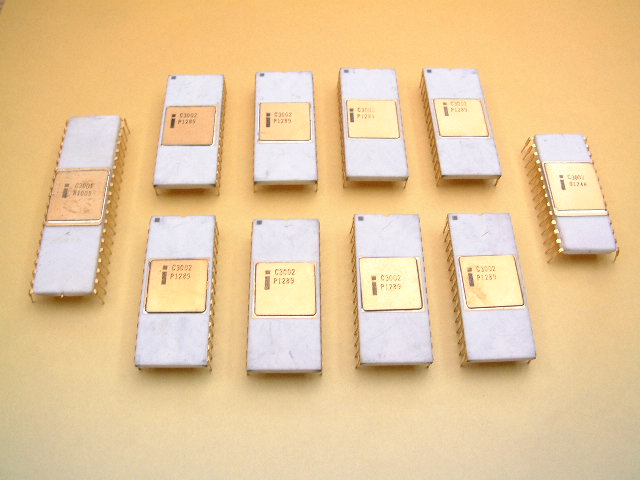 (Basic Configuration For a 16-bit Bipolar Computer)


---


3002 Support Chips
Members of the Intel Bipolar Microcomputer Set:
| | | |
| --- | --- | --- |
| 3001 | Microprogram Control Unit | Intel3001.pdf (478K) |
| 3002 | Central Processing Element | Intel3002.pdf (472K) |
| 3003 | Look-Ahead Carry Generator | |
| 3212 | Multi-Mode Latch Buffer | |
| 3214 | Priority Interrupt Control Unit | |
| 3216 | Parallel Bi-directional Bus Driver | |
| 3226 | Inverting Bi-Directional Bus Driver | |
| 3301 | Shottky Bipolar ROM (256 x 4) | |
| 3304 | Shottky Bipolar ROM (256 x 8) | |
| 3601 | Shottky Bipolar PROM (256 x 4) | |
| 3604 | Shottky Bipolar PROM (256 x 8) | |
---
3301 Shottky Bipolar ROM (256 x 4)
3301A
C3301A
MEXICO
N.D.C
MEXICO
N.D.C
---